In the first quarter of 2023, the UK Independent Automotive Aftermarket (IAM) continues to be defined by falling volumes and rising prices.  
Recommendation: It is more important than ever that suppliers and motor factors make use of data to ensure they are competitively priced in a dynamic marketplace.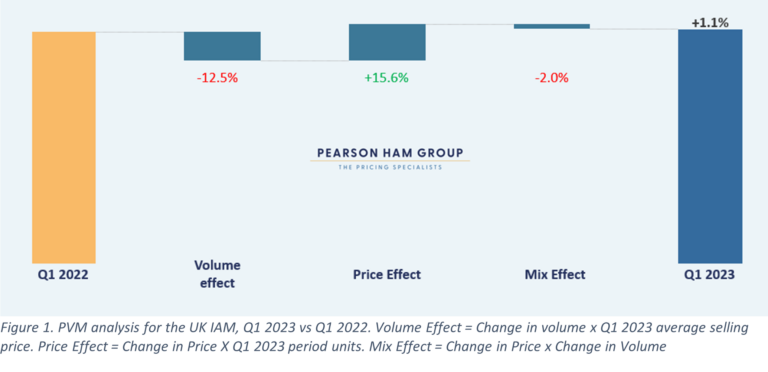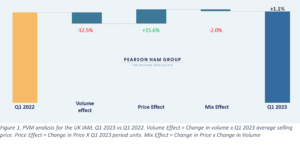 At a high level, price-volume-mix (PVM) analysis of the UK IAM in Q1 2023 compared with Q1 2022, shows a small 1.1% growth in sales revenue across the aftermarket, significantly lower than the rate of growth 12 months earlier.  This low overall growth in sales revenue was driven by two, largely offsetting, factors: 
Higher prices increased sales revenues (the "price effect") and contributed to a rise of +15.6 % in sales revenue.

 

Offset by a significant decrease in the total quantity of parts sold (the "volume effect") leading to a -12.5% fall in revenues.

 

We also observed a small change in overall product mix – leading to an additional -2% fall in sales revenue (the "mix effect") – as garages and consumers looked to buy cheaper brands, to offset higher prices.

 
The devil in the detail
PVM analysis at a catalogue level provides useful clarity, highlighting that reduced demand is not consistent across the aftermarket. Whilst lower volumes of parts sold across the aftermarket were a reaction to inflationary pressures in the UK, the magnitudes of the effects varied considerably.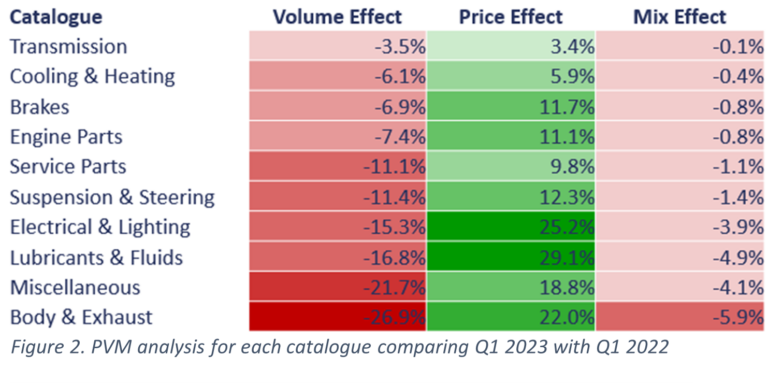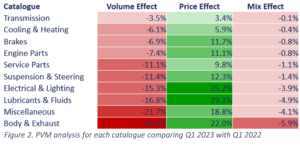 'Body & Exhaust' saw the most dramatic decline in volumes, with a volume effect of -26.9%. 

 

'Transmission' performed surprisingly well in the current climate, seeing a small, negative volume effect of just -3.5%. 

 

We can speculate that there is relatively constant car owner demand for

unavoidable

repairs (Transmission, Engine, Cooling and Heating), but that car owners are delaying

discretional

spend if possible (Body & Exhaust).

 

We suspect such delays to discretional spending can only be put off for so long, so we will assess in our next review any bounce backs effects. 

 
Knowing whether the demand for your product is "price elastic" (higher prices lead to corresponding reductions in demand), or not, will be crucial in forecasting remaining 2023 revenues.  
High prices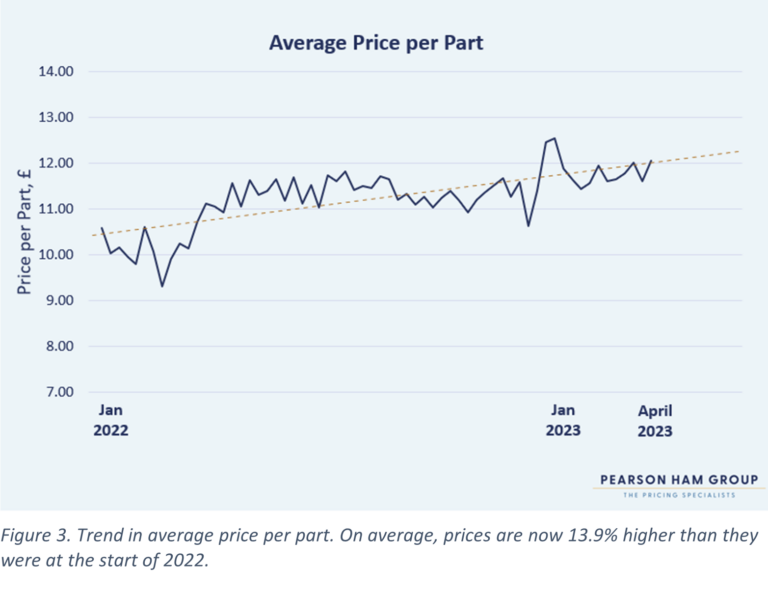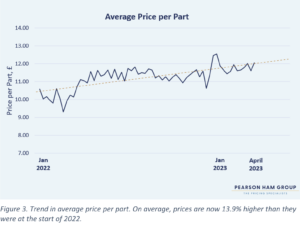 Increased prices will come as no surprise to anyone working within the UK IAM.  We track the Average Price per Part, and have seen steady increases since the start of 2022, with parts, on average, 13.9% more expensive now than they were 15 months ago (and 3.5% higher compared to Q4 2022.)  
Prices are likely to continue to rise due to the continued impact of Brexit on imports and remaining supply chain disruption left behind from Covid, and of course a consistent high inflationary environment across the UK.  
Therefore, regular tracking of price movements and appropriate responses can give suppliers a competitive advantage.   Do you know the price trends of your key competitors? Have you analysed volume trends across the market to inform your recent pricing decisions? How frequently are you reviewing prices at category and product level? 
Wide range of pricing changes
At a catalogue level, we have observed interesting and varied price trends. From Q1 2022 to Q1 2023, the average price for parts in the Lubricants & Fluids catalogue rose by 26.5%, a huge increase despite the fall in the price of crude oil over the last year. In contrast, prices for parts in the transmission catalogue only rose by 1.6% over the same period.  
Overall average prices are marginally higher when compared with the final quarter of 2022. Prices on average increased by 3.5% per part, and there was little variation between catalogues, except for in transmission where there was a fall of 1.5%.  
Return rates continue to be a business cost.
High return rates continue to be a cost to the aftermarket and one we will keep track of. In the first quarter of 2023, the total sales revenue associated to parts returned by garages to motor factors was more than £63 million.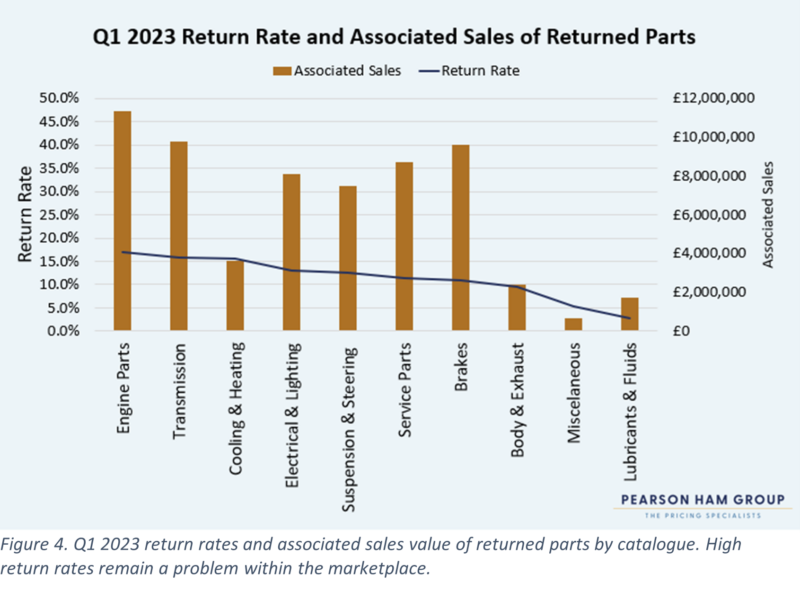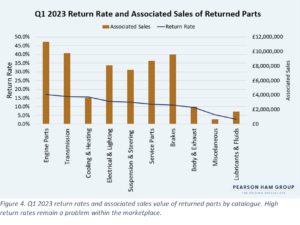 Return rates have changed very little in the past year and continue to cause challenges.  Understanding which products are being returned and with what frequency can help manage stock levels.  Suppliers should also look to act where they experience a higher product return rate comparative to their competitors, for the same part – perhaps with stronger customer support training or supply of technical information. 
Constant change
We note that the UK IAM is in a dynamic state; the latest trends across revenue, volume, and price will continue to define business opportunities and threats.  So, we are pleased to start our quarterly reviews, to allow businesses to make better pricing decisions, backed by data led insights.  To stay ahead of competitors, we recommend some simple steps: 
Participants should make use of all available market data to inform pricing, business development as well as sales and marketing decisions. 

 

Ongoing tracking of market and competitor pricing trends enables more effective responses and better pricing decisions. 

 

To target more effectively, dive into the detail to understanding category and product trends and evaluate variations at a regional or buying group level.

 
Factor Sales Automotive Insights and Pearson Ham Group are passionate about helping businesses make strong pricing decisions.
If you would like to learn more about how we could benefit your business, please contact us on automotive@pearsonhamgroup.com