How long before the aftermarket is impact by Electric Vehicles?
Automotive aftermarket price index: internal combustion engine vs. electric vehicles
Contact us to find out how our automotive insights can help you.
Factor Sales have created a UK Automotive Aftermarket Price Index, tracking the price and sales volumes of the best-selling parts across the UK aftermarket. Using factor to garage sales data, collected daily, the index allows the accurate tracking of parts price inflation and gives unique insight into how this is impacting different areas of the UK Independent Automotive Aftermarket (IAM) differently.
From this we observe varying rates of inflation across the IAM and for the first time, analysis on the emergence of Electric Vehicles (EVs) and the way they are shaping the aftermarket.
The rise of EVs in the UK marketplace
Internal Combustion Engine (ICE) vehicle market share has fallen consistently in the last 5 years. More and more, consumers are turning away from these petrol- and diesel-powered vehicles and towards Electric Vehicles (EVs).
According to heycar, in 2022 Battery Electric Vehicles (BEVs) made up 16.6% of all new UK car sales and plug-in hybrid electric vehicles (PHEVs) made up 6.3%, with EV sales forecast to overtake traditional ICE passenger vehicles in 2025, we ask; how long before the UK IAM sees the positive and negative impacts of the EV new car sales boom?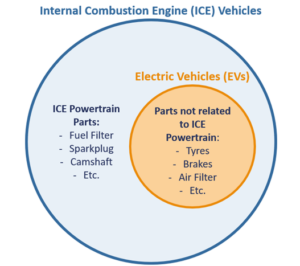 The impact of EVs on servicing revenue to aftermarket
With fewer moving parts, EVs require less frequent servicing than ICE vehicles.  But availability of parts is far greater for the ICE powertrain aftermarket, meaning ICE vehicles are often cheaper to service and insure.
In order to model and predict future trends in garage and motor factor revenue due to the emergence of EVs, we have separated our price index into two groups of products:
Products used in the servicing and repairing of ICE powertrains.
Non-Powertrain products used in the servicing of both ICE vehicles and EVs
NB:  We have not included EV powertrains as a separate group, as there is insufficient transaction data within the aftermarket, and presently, these components are regularly serviced by dealer franchises.
Analysing the differing rates of inflation in these two groups is important. As the EV market continues to grow, demand for ICE powertrain parts in the aftermarket is likely to steadily decline, leading to aftermarket revenues to be increasingly reliant on non-powertrain parts.  But when will this occur?  Let's look at price inflation of these two groups.
Inflation rates have been high across the UK IAM
Immediately, we can see stark differences in the rates of inflation between ICE powertrain service parts and non-powertrain service parts over the last 18 months.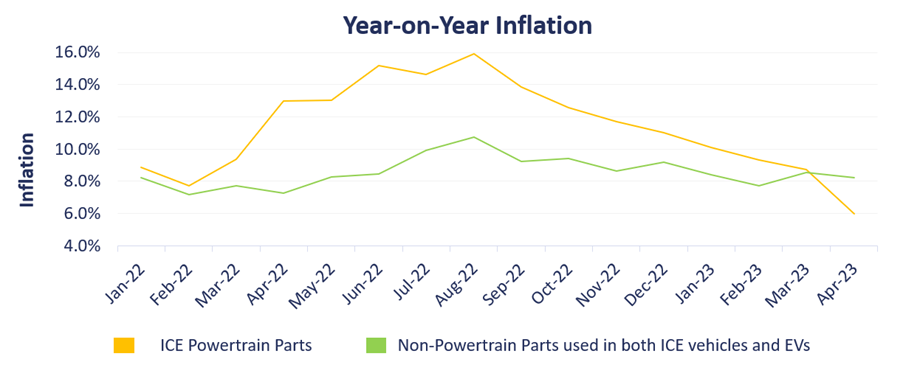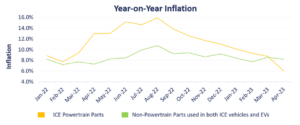 Inflation levels were similar in January and February of 2022.
But the outbreak of war in Ukraine, on 24th February 2022, unsettled markets globally as trade restrictions were placed on Russia by countries across the globe. This led inflation rates to skyrocket for ICE powertrain service parts, with inflation peaking at 15.9% in August 2022. Inflation rates for these parts have steadily dropped since.
Interestingly the rate of inflation for non-powertrain service parts did not increase as dramatically or as immediately as ICE Powertrain parts, peaking at 10.8% in August 2022.  But inflation has remained consistent and not dropped for non-powertrain parts; in April 2023 it remained high at 8.2%.
Also notable is the latest inflation rate, in April 2023.  For the first time we saw inflation rates for ICE powertrain parts fall below that of non-powertrain parts. While this could be in part due to the high prices in April 2022, it is an interesting trend that we will continue to track.
Why is this important to the aftermarket? Suppliers and motor factors must price and monitor their ICE specific service parts differently to parts that service both ICE vehicles and EVs. It is important that suppliers track demand for the differing groups of parts, and associated impact on pricing, as EV car sales increase, with the anticipated longer-term impacts of EV now beginning to be seen in the aftermarket
Soaring AdBlue prices skew ICE Powertrain data
AdBlue products skews the above price inflation analysis, as extreme market behaviour in the last 18 months has seen AdBlue undergo abnormal price changes.
AdBlue, an exhaust fluid, is sprayed into the exhausts of diesel engine cars to reduce the Nitrous Oxide (NOx) emissions. Manufactured from a mix of urea with de-ionized water, prices for AdBlue have been extremely turbulent in the last 12 months, with market volatility caused by the war in Ukraine.
Urea is manufactured from Ammonia, which requires natural gas to produce, meaning the price of urea and therefore the price of AdBlue often closely tracks the price of natural gas. Prices have been high since late 2021, but the outbreak of war in caused AdBlue prices to double.  We noted that AdBlue price inflation in the UK peaked at 108% in May 2022.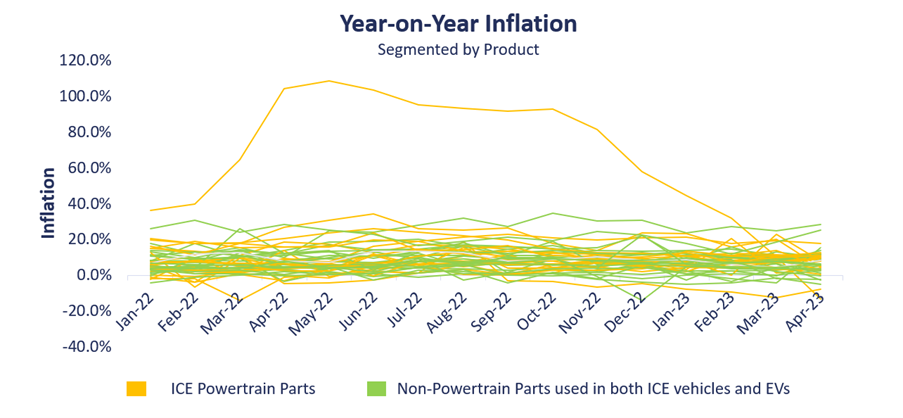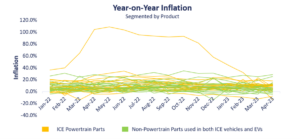 As multinationals begin to cope with supply chain issues caused by the war in Ukraine, inflation levels have begun to decrease.  However, as many counties around the world (China especially) have reduced urea exports to meet internal fertiliser demands, prices are unlikely to fully recovered to pre-war levels in the near future.
A turning point for ICE vehicles and EVs in the UK IAM?
When AdBlue products are removed from price index analysis, signs point towards a potential turning point in the UK IAM.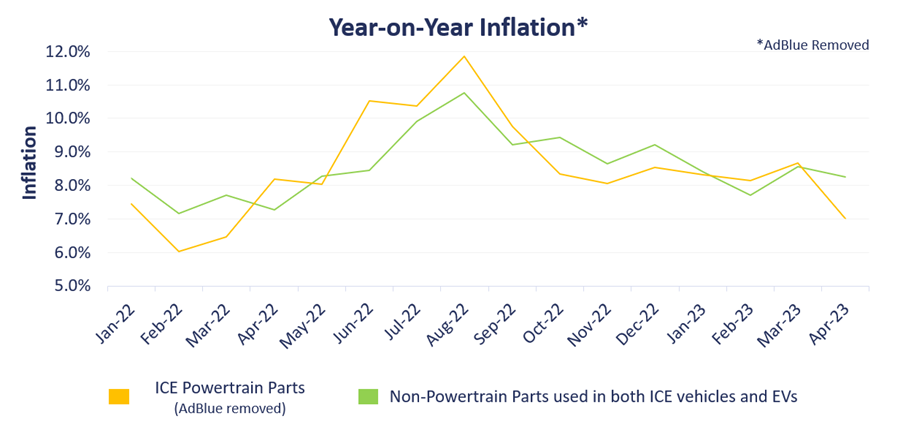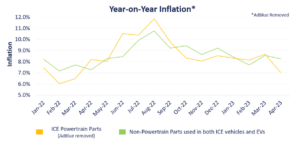 Inflation rates still increased more sharply and reached higher levels for ICE powertrain parts through the middle of 2022, as many Lubricants & Fluids are petrochemical based, which is a category continuing to see higher inflation levels.   But in the middle of 2022, we saw high price inflation for non-powertrain parts which service both ICE vehicles and EVs.
Through Q4 2022 and Q1 2023, the two groups of parts have shown very similar rates of inflation. However, April 2023 signifies a potential deviation from this; inflation for ICE powertrain parts fell significantly below that for non-powertrain parts (8.2% vs. 7.0%), which is against the trend of data from the previous months.
Questions to consider; Could this be an early indicator of falling demand for ICE vehicle servicing parts in the aftermarket? Could the increased demands of parts to service EVs be causing the comparative change in inflation?
Why is this important to the aftermarket: Suppliers and motor factors must diversify product portfolios where possible, to include EV compatible parts to maximise potential revenue and ensure their market niche isn't lost.
Conclusion
Earlier in this article we asked: how long before the UK IAM sees the effect of the EV boom?
It is a time of change in the UK aftermarket as the market adapts to the increased presence of electric vehicles on UK roads.  It is still too early to confidently forecast how the revenues from Servicing ICE and EV will begin to materially change.  Market players need to continue to monitor the inflation rates of these product groups and the next few months will be crucial to watch for a split in price inflation, or whether April 2023 was just a blip.  
Follow us as we continue to analyse these trends over the coming months to see if prices in these two groups continue to take divergent paths.
Method
Products were selected for the index by choosing those that make up the largest proportion of revenue (~80%) in each product range, category, and catalogue relevant to car Servicing.
From these products, we selected any parts (unique SKUs) that had been a top-5 monthly seller since January 2022, and included these parts in the index.
Inflation was calculated monthly by averaging the year-on-year difference in price for each part number.
Contact us to find out how our automotive insights can help you.